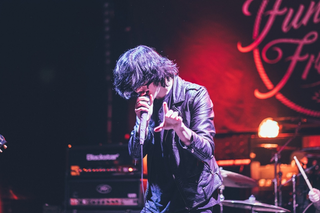 Delhi's nightlife has been bustling with new lounges and clubs coming up every now and then, bringing along newer concepts. One such concept, 'Karaoke nights' are becoming a rage in the city.
We all do have a bathroom singer within us and it needs to come out, scream and shout for a fun evening. Before that, if you've never been to a Karaoke night, here's what you are supposed to know:
Do not ever consider singing a Karaoke as target practice, a way to attain perfection. Because that's the beauty of this activity; it is one of those rare activities where you are under no pressure to improve. Just give it your best shot.
Choose a song you're confident about, clench the microphone tight, clear your throat, and croon away. Whether you wish to re-live the 90s with the 'Summer of 69' or just want to sink into some Honey Singh numbers, these karaoke nights in Saket have got you covered:
Harry's in Saket is a perfect drenching hole for patrons looking to chill and grab a few drinks after a hectic day. This one is set up in the bustling Select city Walk Mall in Saket, while the brand operates through 9 other outlets in India. The place is perfect to unwind over drinks, food and music in the comfort of an modest Bar. An evening spent at Harry's will cost you around Rs.800 per head.
To stay updated about the events in here -
The amazing ambience, disco-like feel and the vivacious lights will get you into the groove at the Odd Even Club. Ever since it hosted its first Karaoke night, there's been a rise in the footfall and the Karaoke Nights are even more fun here. Known for its Continental and Italian servings, it is located at the MGF Metropolitan Mall. A night out here will cost you around Rs. 600 per head.
To stay updated about the events in here - https://goo.gl/yW8kJD
A perfect combination of palatable food, classy ambience and lively music, 3 Pegs Down deserves to be on your must-visit list. They serve Continental, Italian, North Indian food for about Rs. 600 per person including drinks. Situated in the busy Southern Park Mall, it sees a great crowd and fun-filled evenings.
To stay updated about the events in here - https://goo.gl/vcOVjv
Serving North Indian and Chinese, Xplode has been a favorite among foodies and students in general. But ever since it started hosting the Karaoke nights, many music lovers have also fallen for it. Located in the PVR Anupam Complex, the lounge reflects the happening nightlife of the city well. A great night with food, drinks and tapping music will cost you around Rs.1000 per head here.
Now go out there and put that bathroom singing to good use!